Incorporating the principles of a circular economy is at the core of Mohawk's sustainability strategy, encompassing the entire life cycle of our products, from design and manufacturing to their use and end-of-life. Product circularity helps us to reduce costs, secure product sourcing, better manage reducing emissions and meet consumer demand for more sustainable products.
MAKE
Through thoughtful design and efficient manufacturing, innovate regenerative products that optimize material use and expand post-consumer and sustainable content. Employ a zero-system-waste framework, including renewable energy use, to minimize our products' full life cycle impact.
USE
Ensure healthy environments where product life is extended through superior performance and durability. Educate end-users about post-life cycle options for reducing environmental impact.
RECOVER
Reclaim materials for a second and subsequent purpose after an initial, useful life.
We have a wealth of opportunities to close the loop and thoughtfully minimize environmental impact across the product life cycle—a key benefit of our vertically integrated operations. Even more importantly, we create sustainable products while still exceeding consumer expectations for design, functionality, quality and value.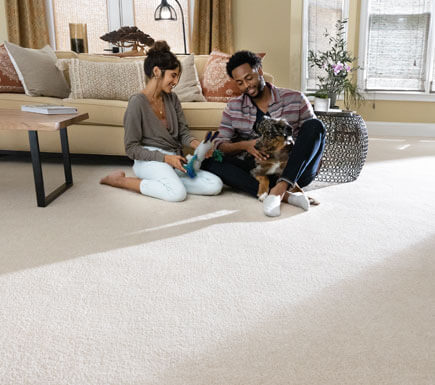 Make: Innovate Regenerative Products Through Recycled, Reclaimed or Recovered Materials
Product stewardship at Mohawk considers the entire life cycle of our products, from material inputs to manufacturing to recyclability at end-of-life. Beyond the need to be sustainable, our products also must meet consumer needs for design, functionality, quality and value.
Mohawk enables sustainable product design by reducing the volume of material inputs required through either bio-based and/or recycled materials as well as making production processes more efficient.
Derived from renewable resources such as plants, bio-based products play a crucial role in the transition toward a more sustainable and environmentally conscious future. These materials provide a viable alternative to traditional petroleum‑based counterparts. Bio-based products extend to using renewable materials, which are derived from replenishable sources.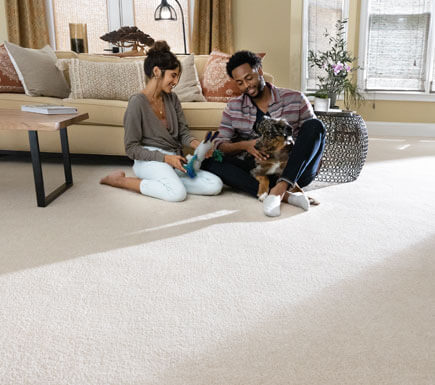 Nearly every brand within our portfolio contains products with recycled inputs. For example, over 99% of Dal-Tile's manufactured tile collections contain recycled or reclaimed materials. Similarly, more than 90% of the wood used in our laminate flooring collections is recovered content from sources such as roadside maintenance and sawmills that would otherwise be burned or sent to landfills while end-of-life trees from the Malaysian rubber industry become cores for our parquet wood flooring. In carpet, EverStrand and EnviroStrand fiber are made from recycled PET plastic bottles using our state-of-the-art Continuum process, averaging more than 6 billion bottles per year during the past decade and our ReCover backing is made from recycled polyester and eliminates the need to separate the backing from fibers for recycling.
Advancing the Circular Economy
We have reshaped sustainability in both residential and commercial spaces by prioritizing recycled and renewable materials in our products. Our approach minimizes environmental impact while ensuring functionality.
1
2
3
4
5
6
7
8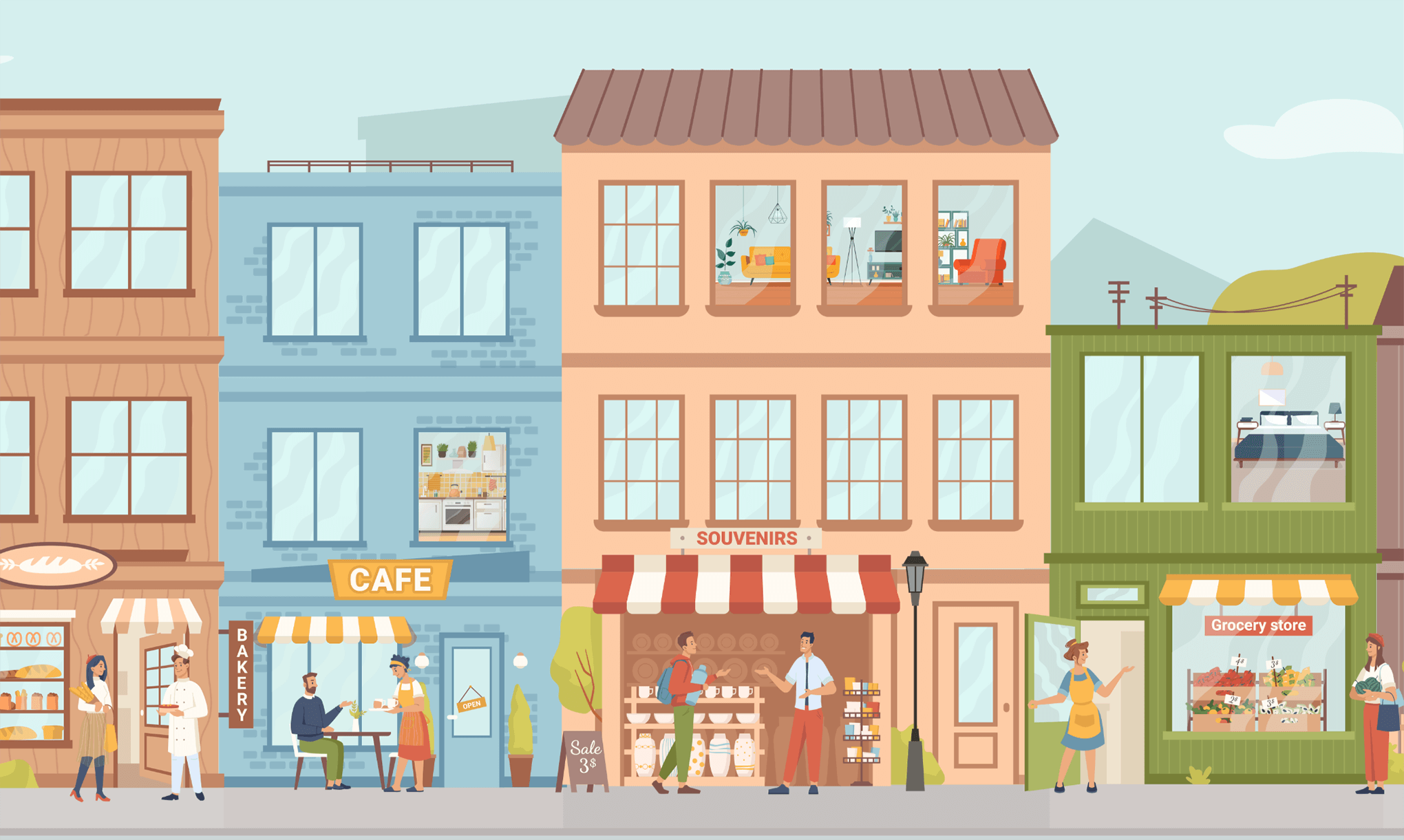 1.Luxury Vinyl Tile (LVT) manufactured in a closed-loop facility consists of 100% post-industrial recycled content.
2.Our new renewable polymer core (RPC) product, PureTech, offers a PVC-free alternative to resilient flooring while maintaining the waterproof capabilities and exceeding the scratch resistance of traditional luxury vinyl tile (LVT).
3.Unilin is the first business to recycle MDF and HDF material to produce new boards through patented recycling technology.
4.At its facility in northeastern Brazil, Eliane produces ceramic tile using lime mud—a natural residue from a nearby cellulose manufacturing plant.
5.Unilin recovers raw materials from insulation boards, converting polyurethane back into building blocks for new boards.
6.Our exclusive SmartStrand carpet fiber (triexta) is made in part from bio-based material and is inherently stain resistant and durable.
7.In the U.S., Mohawk Home converts waste carpet fiber into non-woven rug pads for extra cushioning.
8.EverStrand and EnviroStrand carpet fiber are made from recycled PET plastic bottles using our state-of-the-art Continuum process, averaging more than 6 billion bottles each year.
Use: Ensuring Healthy Spaces
The majority of chemicals most people are exposed to on a daily basis come from indoor environments where most of their time is spent—their homes, offices, schools and more. Flooring covers surface area in indoor spaces, and therefore can have an effect on indoor air quality. That's why Mohawk intentionally designs our products to meet or exceed all health, safety and quality standards, as well as local, state and federal laws related to volatile organic compounds (VOCs).
We have decreased emissions by substituting newly available chemicals and partnering with vendors to improve material composition.
We review and approve all new chemical and material products prior to import, purchase, request for sample or bringing on-site. We request a "chemical of concern" evaluation sheet from suppliers of chemicals or materials used in the manufacture or production of our products.
Mohawk's other methods of creating healthy spaces through healthy products includes using glue-free installation methods, reducing chemicals used in carpet adhesives, applying water-based inks and coatings, using antimicrobial protection, all of which leads to many of our products earning the following certifications.
GREENGUARD
GREENGUARD Gold
NSF/ANZI 51
The International Living Future Institute's (ILFI) DeclareSM program
ILFI's Living Product Challenge certification
ILFI's Living Building Challenge Red List Free
Environmental Product Declarations (EPDs)
Health Product Declarations (HPDs)
Indoor Air Quality/Volatile Organic Compound (VOC) certifications
The HIGG Index
Global GreenTagCertTM
Environmental Certification Scheme (ECS)
Cradle to Cradle (C2C) Material Health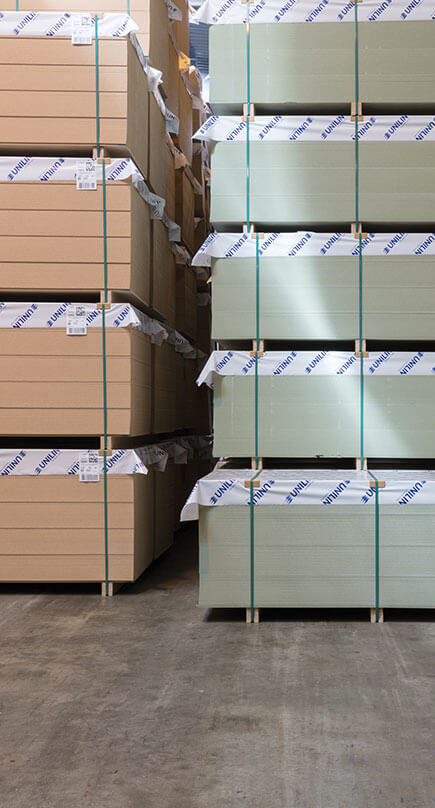 Recover: Taking Responsibility for Product
End-of-Life
Managing the environmental factors that contribute to sustainable products is somewhat easier during the make and use phases of flooring's life cycle because the variables are in Mohawk's control—we can design sustainability into our products and reduce inputs in manufacturing. To truly achieve product circularity, we also need to take responsibility for our products at end-of-life. That represents a challenge since we typically rely on end-users to work with us to keep our products out of landfills. Mohawk encourages customers to make better decisions by managing programs that recover, reuse and recycle flooring.
Our award-winning ReCover Recycling Program diverts flooring from landfills through a partnership with external vendors. With just a phone call, we will arrange for the removal, pickup and delivery to a processor of any type of flooring, regardless of whether we manufactured it. Used flooring is then donated to nonprofit organizations or recycled through a network of partners across North America.
In our Global Ceramic segment, Dal-Tile's GREENWORKSTM program offers the building industry a take-back alternative to landfill disposal of waste or unused materials that may result from demolition/construction projects or inventory reduction programs.
Unilin has also implemented take-back programs for various products, including chipboards, vinyl flooring, click LVT and carpet tiles. Converting end-of-life products into new ones is an important aspect of Unilin's circular economy model. The company transforms polyurethane and polyisocyanurate insulation boards into alternative products with unique properties. Unilin Panels is also the first company in the world to recycle wood fibers from medium-density fiberboard and high-density fiberboard materials and reuse them for new boards.
GH Commercial offers a dual approach for its take-back program. Products in good condition are repurposed in new installations, benefitting a range of recipients from charities to schools. Meanwhile, products that have reached the end of their life cycle find new purpose by being transformed into materials like concrete.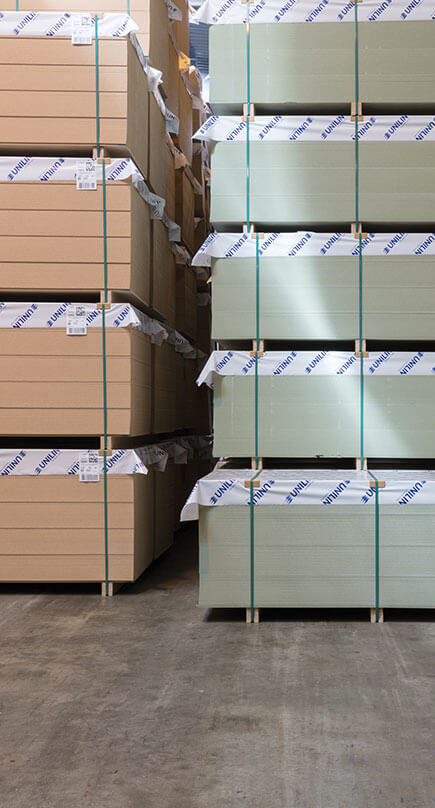 Manufacturing Waste Efficiency
Manufacturing processes inherently produce waste, but the most sustainable manufacturers understand that waste does not have to go to landfill and can instead be given a second life as a raw material in new products. Beyond the possibilities of reusing waste, it is also important find ways to create less waste through leaner production processes.
Our journey to reduce waste-to-landfill began in 2010, when we set our first goal of reducing waste-to-landfill by 25% by 2020. Through an intense focus on process efficiency, we achieved this goal in 2015, five years early. Today, around the world, Mohawk has 42 facilities that are considered Zero Waste-to-Landfill (ZLF), which we define as at least 90% diversion of any materials that pass through our manufacturing process.
Regardless of whether a facility is ZLF-certified, we take a progressive reduce/reuse/recycle approach to waste reduction. For example, upgrading to more efficient equipment may allow a facility to generate less waste during a manufacturing process. Next, we look to reuse, either within a plant or across Mohawk divisions.
After reductions and opportunities for reuse are exhausted, we aim to divert waste from landfills through commercial recycling streams and the sale of waste to other businesses. Wherever possible, we try to keep our waste diversion local, identifying businesses near each facility with which we can partner and thus avoid additional transportation-related emissions.