Mohawk is committed to helping build a climate positive future. We're doing our part to contribute to climate solutions by implementing a decarbonization strategy that ultimately will be guided by science-⁠based targets. Our strategy to achieve that future includes robust climate governance and, within our operations, making strides to conserve energy, harness alternative energy and reduce transportation fleet emissions.
Our priority is to establish science-based targets (SBTs) by 2024 for reducing greenhouse gas (GHG) emissions. We have been tracking and reporting our energy and Scope 1 and 2 emissions since 2010. As of 2023, we expanded that reporting to include Scope 3 emissions, establishing a baseline for nine material categories.
Currently, we are working toward a goal to reduce Scope 1 and 2 emissions intensity by 25% by 2025. As we work at the enterprise level for an approved SBTi, some business units already have an SBT in place. This includes our Flooring Rest of the World segment, which received SBT approval in late 2022. Mohawk Group—our North American commercial flooring division—is part of The Climate Pledge, committing to achieve net zero carbon emissions by 2040, which is 10 years ahead of the goals set by the Paris Agreement. More than 400 companies worldwide have signed this pledge since its establishment in 2019.
In 2020, Godfrey Hirst, our Oceania-based business, became the first Australian carpet manufacturer to achieve carbon neutral status from Climate Active, an Australian government-accredited carbon neutral certification program. Godfrey Hirst's New Zealand operations also became certified as carbon neutral in 2022.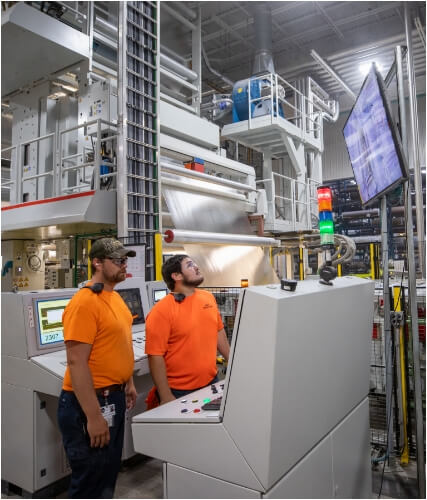 Emissions Reduction
Mohawk's strategy for reducing the energy and emissions intensity of our business is twofold: we improve the energy efficiency of our manufacturing and distribution processes while seeking alternative, cleaner-burning fuels to power our operations. Proven technologies, such as combined heat and power systems, along with process optimization, are helping us make efficiency improvements.
Many of our acquired businesses are contributing to our progress with their own sustainability practices. Our LVT manufacturing plant in Belgium, for example, makes use of internal energy teams who are involved in energy studies and help roll out energy-saving projects. Unilin's larger and more energy-intensive plants have joined the European Energy Efficiency Program, which ensures energy savings measures are identified and implemented, and that energy is monitored and managed daily, both saving energy and maximizing the use of renewable energy.
We are also making more sustainable choices on the local level to reduce our energy consumption. For instance, more than 60,000 incandescent fixtures have been converted to LEDs at Mohawk facilities around the globe, delivering energy efficiency and environmentally superior lighting options as well as reducing replacement, maintenance and material costs.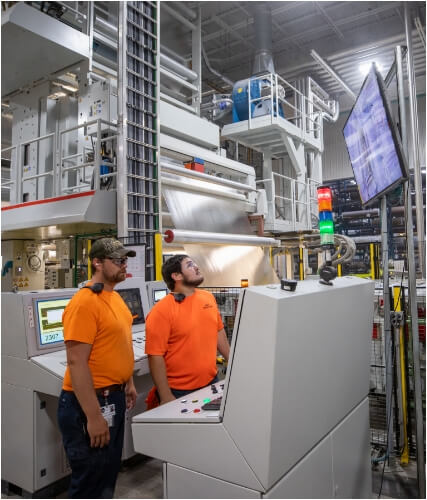 Alternative Energy
In addition to energy efficiency efforts, Mohawk invests in the production of low-carbon energy, proven renewable energy technologies and strategic energy purchases to power the growth of our business. Our investments have expanded the use of green energy through wind and solar energy and waste-to-energy conversion.
Mohawk also supports the green energy transition of the grid through demand management activity, which moves our electricity demand to greener, base load generation like nuclear, hydro and combined cycle natural gas, and away from oil, coal and inefficient natural gas and promotes the shift toward renewable energy in the grid system.
Distribution Generation
In Italy, Marazzi Group's three combined heat and power (CHP) units in addition to one CHP unit in Flooring North America generate more than 280,000 MWh of low-carbon energy and eliminate more than 40,000 metric tons of CO2 each year.
Dal-Tile's plant in Dickson, Tennessee, has a CHP unit that can achieve thermal efficiencies of well over 90% and uses the waste heat produced to avoid natural gas consumption within the powder production process.
WIND
In 2022, Unilin Insulation installed two wind turbines in Feluy, Belgium, covering 71% of the plant's energy demand. Unilin also operates three wind turbines at its Avelgem vinyl flooring facility.
BIOMASS
Unilin has invested in two joint venture biomass power plants in Belgium, where it converts non‑recyclable waste wood into heat and energy.
In the U.S., Mohawk operates a biomass system in North Carolina to generate thermal energy.
SOLAR
Godfrey Hirst has installed a 500 kW solar panel system in Geelong, Australia, supplying nearly 30% of the site's electricity. Another 220 solar panels are located at the Truganina site, and 216 panels at the Laverton site. In 2022, Godfrey Hirst installed 1,560 solar panels at the Auckland, New Zealand, facility and 738 panels at the Dannevirke plant, generating 30% and 45% of each plant's electricity, respectively.
Rooftop solar panels are in place at our insulation manufacturing plants in Chesterfield, Derbyshire, U.K., and Navan, County Meath, Ireland.
Mohawk's Flooring Rest of the World segment headquarters in Belgium uses a photovoltaic solar system to help supply electricity.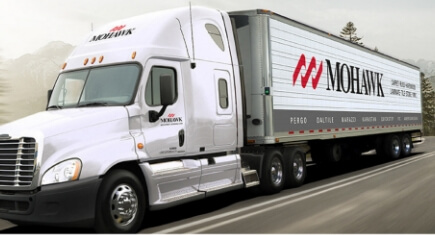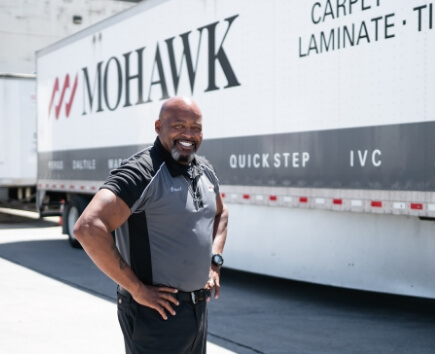 Fleet Emissions
Another area of focus is the efficiency of our distribution fleet, which includes hundreds of tractors and thousands of trailers used for deliveries throughout North America. We achieve near-world-class numbers of backhaul miles, meaning that our trucks rarely travel empty after making a delivery. Instead, we solicit freight from other businesses through an extensive backhaul network, ensuring that our time on the roads is always used efficiently.
Mohawk's U.S. distribution fleet includes vehicles that each haul approximately 40,000 pounds of flooring products on a full load. Although we have run testing pilots on electric and natural gas-powered trucks, the demands for this weight cannot currently be met by these vehicles. Our present emissions-reduction efforts therefore focus on efficiency within diesel trucks.
We upgrade our fleet by approximately 20% each year, in adherence to the Environmental Protection Agency Tier 4 engine requirements, which aim to reduce emissions from pollutants. Mohawk has also achieved emissions reductions through driver monitoring, which has limited practices such as long idle times. We have found improvements in areas such as engines, aerodynamics and predictive cruise control. We also maintain an internal service support network to complete regular and proactive maintenance to keep our assets running at peak performance.
Where possible, we transport goods through lower carbon-emitting channels such as rail, ocean, and even river. In Belgium, for example, we ship 90% of products for export by water, using direct container shipments to the main harbor in Antwerp.