As an integral part of the communities where our employees live and work, Mohawk collaborates both locally and globally to enhance lives in areas where we operate. Reflecting the distributed nature of our business, we empower local teams to drive initiatives that benefit their respective communities.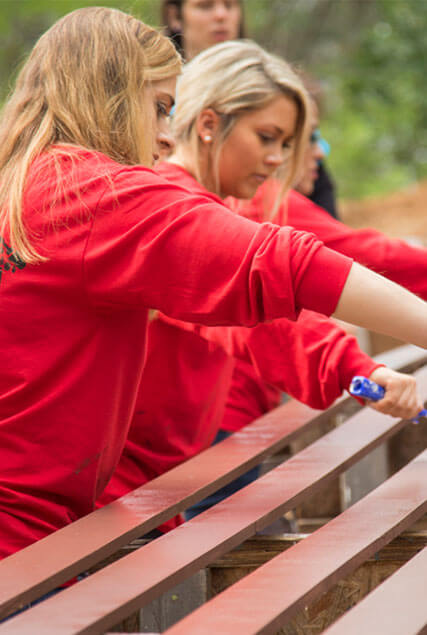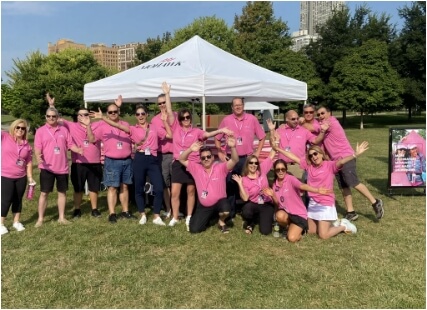 Product Donations
As a manufacturer of high-quality flooring materials, donating our products to worthy causes is an important way we give back and educate our communities about what we produce. Our philanthropic activities include building new homes for people in need, creating welcoming and accessible spaces for disabled veterans, and supporting dream bedroom makeovers for children with serious illnesses.
We support renovation and construction projects, including a 10-year partnership with Sunshine on a Ranney Day, where our flooring products have been used to create custom rooms for children with special needs. Mohawk also has long served as a national corporate sponsor of Habitat for Humanity®, with employees actively participating in home builds and fundraising events.
Our global businesses also donate materials to a variety of causes, from cancer treatment facilities to orphanages and schools. As an example, Eliane transformed the Hospital São José's façade in Brazil through the donation of a 15-meter-high artistic panel made from digitally printed porcelain tiles. Through such efforts, we make a positive community impact that uniquely reflects the operations of our local businesses.
Community Give Back
Many of our brands look for opportunities to drive business growth while also creating positive societal value. For example, Mohawk Group has enjoyed a collaboration with Susan G. Komen®, a leading breast cancer research organization, for over two decades. Through our Decorate for the CureTM and Specify for a Cure® programs, we donate a portion of our proceeds from eligible products to Komen—which has collectively led to more than $7 million in contributions. Mohawk is also the Official Flooring Sponsor of the Susan G. Komen 3-Day®, donating more than 5,000 carpet pad rolls each year to comfort the walkers during lunch stops throughout their 60-mile journeys.
Similarly, Mohawk Group collaborated with ArtLifting, launching carpet and hard surface flooring collections, empowering artists affected by housing insecurity or disabilities to participate in the contemporary art market. In Australia, GH Commercial sponsored the Living Future Institute of Australia National Biophilic Design Awards and supported the Talking Architecture & Design podcast, which examines biophilic design principles.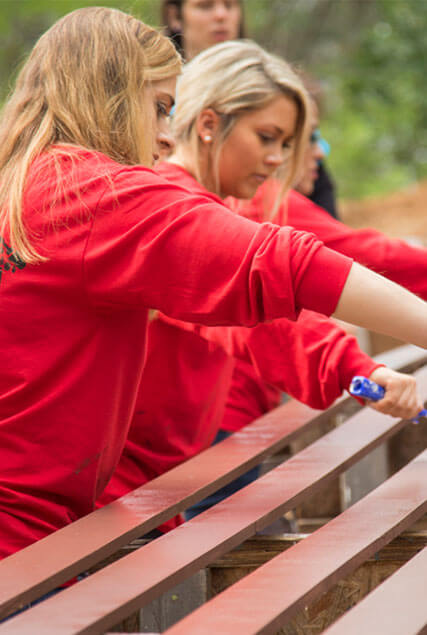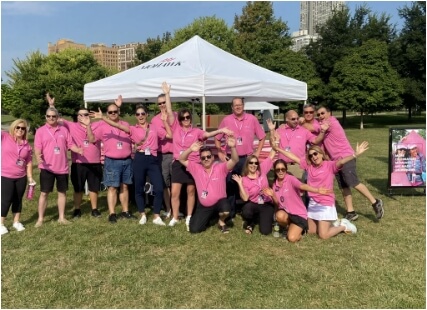 Employee Volunteerism
While much of the work we do to partner with nonprofits is facilitated through the business, we also support employee-driven efforts to contribute to communities around the world. We encourage each of our locations to determine what local needs they want to address—and how they want to address them—whether through volunteering, donations or partnerships.
Australia: Godfrey Hirst organized employees to clean up local beaches and waterways.
Belgium: More than 500 Unilin employees engaged in physical activities to raise funds for Médecins Sans Frontières.
Brazil: Eliane donated ceramic tiles to families whose homes were destroyed by flooding in Bahía region.
France: Unilin France employees participated in "Une rose un respoir," a motorcycle fundraiser for cancer research.
Malaysia: Unilin Malaysia team helped rebuild Sri Ramar temple after a landslide in Sungai Batu and donated desks and benches to a nearby orphanage.
Mexico: Grupo Daltile employees volunteered at a local animal shelter and assisted elderly neighbors with household tasks.
United States: Dal-Tile Dallas and Flooring North America employees collected Christmas gifts and school supplies for children and students.