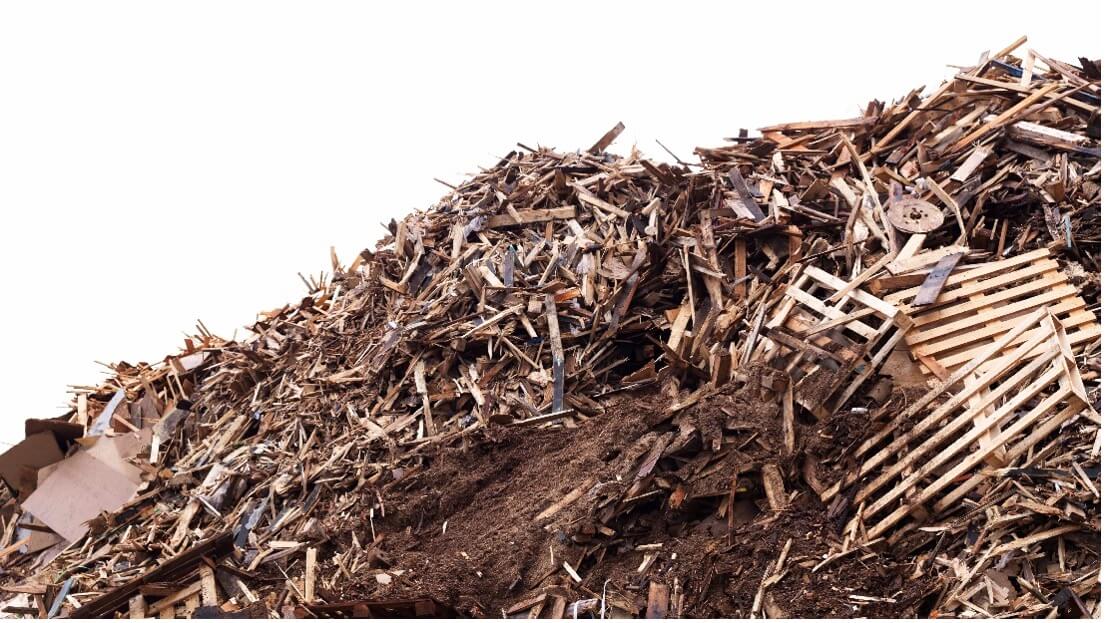 Wood waste or raw material? Unilin and Wood Loop to collect surplus wood for recycling purposes.
Unilin has concluded an exclusive partnership with Dutch company Wood Loop to recycle more wood waste together. This minimises the volumes of incinerated waste and allows Unilin to place maximum focus on recycling in order to manufacture more chipboards using recycled material. Yet another step towards a circular economy.
For a number of years, Unilin has been committed to recycling. "For some time now, the wood mass of the chipboards we manufacture in our plants has consisted of 90-95% of recycled wood", says Kristof Van Hoye, Group Project Manager Circular Economy at Unilin.
"For that production we recycle 900,000 tonnes of wood waste per year that is sourced from, for instance, waste and demolition companies or recycling centres. At the same time our Recover project collects chipboards and other wood surpluses from major customers based in Belgium, the Netherlands and Northern France. Together with Dutch company Wood Loop we are now doing the same for smaller customers who use smaller quantities."
95,000 tonnes less CO2
Wood Loop was founded by the Koninklijke CBM, the Dutch industry federation for interior design and furniture industry. The organisation offers every wood processor, retailer and panel materialmanufacturer in the Netherlands an interesting formula to recycle their surplus chipboards. Next year MDF will also be added to the list.
"The furniture industry obviously uses a lot of panel material", says Wood Loop's Dirk van Deursen. "In the Netherlands their consumption even accounts for one third of the total wood stream, or 635 kilotonnes per year. One sixth of those new panels that furniture makers or interior builders use in their manufacturing process unfortunately ends up in the waste container. Thanks to Wood Loop, Unilin can recycle these surpluses. This enables the group to cut its overall CO2 emissions by 95,000 tonnes."
No additional transport
To recover that surplus wood, Wood Loop uses existing transport. "The retailer who delivers the ordered panel material to the furniture maker of interior builder also takes back the wood waste", Dirk van Deursen explains.
"For this purpose, the furniture makers and interior builders themselves sort wood into crates supplied and collected by Wood Loop. In an app they can see how many crates have been turned in and what the exact ecological impact is, an additional impetus for the furniture maker to contribute. Every crate delivers approximately 228 kilograms of reusable raw material, saving 66 kg of CO2 emissions. This recovered wood is then collected at the retailer's together with the delivery of new chipboard material. Subsequently the residual wood is taken to the panel material manufacturer, who recycles it into new chipboards."
The collaboration with Wood Loop creates a process with fewer intermediary steps so that the logistics process itself also produces less CO2. Moreover, the recovered wood is purer because it is collected from the furniture maker instead of from the waste processor. And this saves costs for Unilin because there are fewer impurities to be removed from the collected wood volumes.
Expansion to Belgium?
"The collaboration with Wood Loop fits perfectly with our sustainability strategy, more specifically striving for a circular product chain", says Kristof Van Hoye. Expansion to Belgium is therefore a logical next step. "One thing is certain: there is no lack of interest from our local distributors. Fedustria, the Belgian counterpart of the Koninklijke CBM, can play an active role in this regard. And the project has also kindled the enthusiasm of the European Furniture Industries Confederation (EFIC)."
Moreover, the legislative framework on waste is also starting to facilitate the circular economy. For instance, the panel material collected via Wood Loop has been granted 'end-of-waste status', which is necessary to allow reuse as raw material. It is an important change in mindset that may also give a major boost to the organisation of takeback programmes similar to Recover in Belgium as well. This would constitute a new step towards the realisation of the circular economy."
How does it work?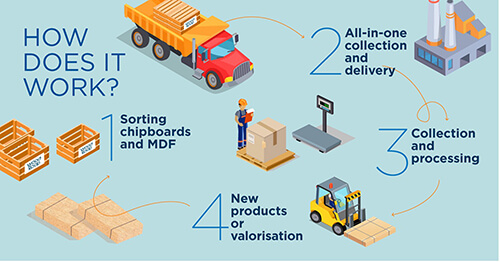 Wood Loop in 4 steps:
Sorting chipboards
Previously all waste wood from furniture companies and interior design builders was collected in bulk by waste companies, who sorted it themselves. From now on furniture companies and interior design builders will sort their own residual chipboards into separate Wood Loop crates. One crate contains up to 360 kilograms of chipboard. By sorting this waste at the source, Wood Loop is able to recover a larger portion of waste wood for reuse.

All-in-one collection and delivery
When a Wood Loop crate is full, the interior design builder or furniture company scans the QR code on the crate. The timber merchant who distributes panel material collects the full crate and delivers an empty replacement together with the delivery of new panel material. Combining collection and delivery in this manner enables Wood Loop to limit the CO2 emissions even further.

Collection and processing
Wood Loop collects the waste wood of the affiliated companies in a single location to enable bulk transport to Unilin Group for processing.

New products or valorisation
With the reusable waste wood Unilin manufactures new panels, which are used in a number of products. In turn, these products are shipped back to the furniture companies and interior design builders to bring the process full circle.
Back to Newsroom